Coach Valentine's Spring Break Recap
Published on Sunday, 03 April 2016 23:48
In its most fundamental nature rowing combines equal elements of beauty and destruction. A rower's stroke is meant to be elegant, almost hiding all of the pain that goes into perfecting it while an athlete puts their body through hell. The catch is violent, sharp, and aggressive, but when executed perfectly provides a picturesque visual of the beauty intrinsically woven into this sport.
You'll be hard-pressed to find an oarsman who thinks there is much beauty in a Midwestern program's winter training plan. You won't find much elegance in musty erg rooms layered with sweat and the remains of hard work strewn about. That's why we migrate to Oak Ridge, Tennessee, in order to supplement some of that beauty we miss during the Wisconsin winter, not only in weather, but in the fluid and serene motion that is the rowing stroke.
Even then, achieving an effortless looking catch takes hours of repetition and muscle training, which is why we can appreciate taking time to travel as a team and devote the entire week to rowing and bonding with your brothers. Forget the exams, the papers, the lectures, and put the rest of the world on hold for a week. Let's go row. Throw in some Waffle House between practices and a nightly run to Sonic for half-off milkshakes and you've got yourself a handbook for the rower's perfect training trip.
Rowing is driven by attention to detail, so here is a detailed observation by me as a coach: by the time it's all said and done, each athlete will have trained 90 minutes for each individual stroke they will row at ACRA. That means 5,400 seconds per stroke, which equates to 2,700 seconds of training for each second spent on the final race course. In case you needed any more justification that "every stroke matters."
Fittingly enough, spring break serves as an introductory course to spring racing at the collegiate level, and as a coach I am thrilled to see the drive and devotion displayed each time hands went on a boat. Rowers applied subtle corrections, they asked questions, and they brought the intensity. Most importantly there was growth, both on the water and between the squads. I witnessed catches quick enough that you could hear the oars prying the bow out of the water, and there were finishes so strong that the echo of the oar twisting in the oarlock bellowed from shore to shore.
A philosophy that I commonly preach is this: I can teach you the proper technique, but what I can't teach you is how to fight for every single meter. That you have to do for yourself. I think Oak Ridge taught these guys what they are fighting for and reminded them that there was a purpose to the countless hours spent in the musty Midwestern erg room. Whether you're fighting through torn up and bloodied hands, exhaustion, muscle failure, surgery recovery, you name it… these athletes persevere. And there is a strange beauty to perseverance.
So again, we go to Oak Ridge to bring beauty back in the wake of destruction.
Taylor Valentine 
A Perspective on Rowing
Published on Wednesday, 24 February 2016 21:51
Allie Kazalski '19
Novice Women
Majors: Philosophy & Political Science
Hometown: Little Silver, NJ

It is not often in our daily lives that we take the opportunity to reflect on the "why."  For college student-athletes at Marquette University, we fulfill the Jesuit Ignatian spirituality of Cura Personalis by expanding the potentials of our bodies, minds, and souls- all in a tightly scheduled week.  At times, we can be stuck in our routines since it is the only way we know how to achieve all we can in a day without wasting time.  Spinning our wheels, we sprint from classes, to practices, to the nearest dining halls, then back to the library all before our heads hit the pillows in the cramped, lofted beds of our dorm rooms.
This is not groundbreaking imagery of a typical day in the life of a student athlete.  However, it has a different meaning for rowers going through the immense physical and mental taxation of winter training.  We are deprived of the water that brings us life.  In lieu of fresh air, picturesque downtown Milwaukee, and the simplistic beauty of boats, we train in fluorescent rooms and on static machines that can tell you things you do not want to hear.  In the long stretch between the last time we went hands on a boat to the day we arrive in Tennessee for spring training, it is easy to fall out of love with rowing and forget the "why."
Novice rowers are particularly inclined to fall into this emotional rut.  In the fall we were consumed with the newness of rowing; the intense regimen of winter training loses its luster pretty quickly.  Our motivation of medaling at Dad Vails and ACRA in the months ahead is all speculative since we do not fully understand the joys of the spring season we have yet seen.
Thankfully, our coaches understand this dilemma and took time out of practice last week to guide us through mental exercises and personal reflection.  For once, instead of taking lecture notes or writing down our erg times, we got to sit in silence and free write about what motivates us in life, school, and ultimately rowing.  Guided by open ended questions, each rower and coxswain wrote with great intention about their visions and values.  There was a noticeable calm in the room when we finished journaling.
With the option to share our writings, there was a common theme in the journals that threaded together this group of very diverse girls: Marquette Rowing motivates each of us on and off the water.  Our attitudes help one another get through even the hardest practices when it feels like our muscles and lungs have given up.  Each girl drives one another to put in the extra meters and lift that added plate in the weight room.  We eat dinner together every night and cut each other off with laughter.  Study groups have formed with girls in similar majors that always prep for exams well in advance.  When we miss each other during breaks or just between classes, we shamelessly send out embarrassing pictures to our group chat where no one is safe from the most loving ridicule.
The practices that followed that team meeting seemed easier.  The coaches did not suddenly lighten up on us or cut our practices short, but our love for rowing and one another was reinvigorated.  We did not need to pretend to know the feeling of racing in Philadelphia or Georgia because we already know the fantastic feeling of racing and being with each other.
I'll tell you this, no matter what happens in my day at school, whether I won my in-class Constitutional debate or finally made that pile of laundry on my futon disappear, rowing is my favorite two hours everyday.  Of course I love seeing how I can push my body to get that split lower and that stroke rate up higher, but the people of Marquette Crew make every sweaty erg piece worth completing at my best.  They are the ones I will be wearing matching medals with in a few short month, and I would not want to do that with anyone else.
Spring Training 2015: Day 5
Published on Monday, 16 March 2015 20:24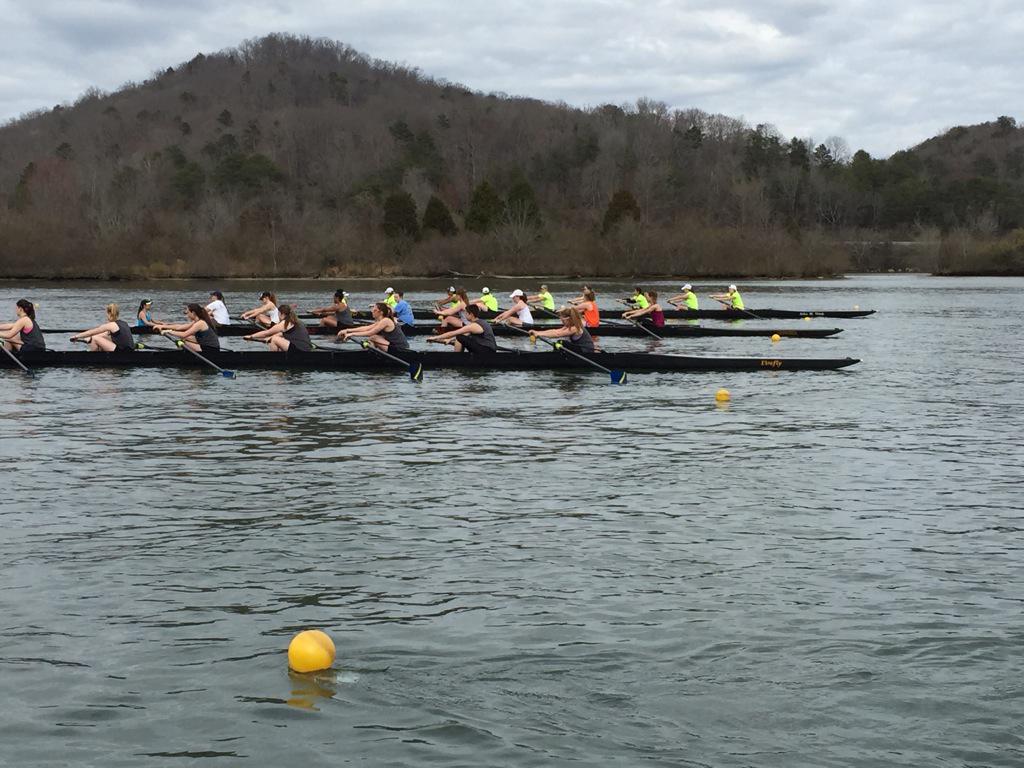 Danielle Jow '17 (Novice Women Coxswain)
Major: Theology
Hometown: Redwood Shores, CA
With the sun shining and spirits high, today's scrimmage was the first opportunity to truly see how much everyone's hard work in and outside the erg room had paid off. The enthusiasm from our coaches about the race piece definitely helped to boost the team's excitement about seeing how far we've all come in the last 5 months being off the water. And of course, Coach Gina was so "jacked up!"
After rowing for 3 days in gloomy and wet weather, through fog so thick you couldn't help but worry you might row off the edge of the world, it was a blessing for the sun to come out and brighten the moods and to get everyone pumped up and ready for the big day ahead. And, although many of us could barely walk on land due to our intense cross training from our prior practice, and had blisters the size of dimes, we all managed to pull through and truly become unified both in the boat, and as a team for the scrimmage.
For the majority of us, this was our first experience rowing in lanes, side-by-side next to our competitors. Unlike the fall, these races are much shorter, as we row only 2,000 meters instead of the longer 5,000 meters we were used to, and these races are over in just about 7 minutes or less. Additionally, these races are far more intense, and without a doubt more competitive.
Participating in our scrimmage were two Division III schools: University of Rochester from New York, and North Park University from Illinois. Stiff competition was in store, and we were going to have to put our best foot forward in order to stay in the race!
Those 7 minutes flew by with intensity, power, competition, and an eagerness to win. From the moment we sat ready to row and heard "ATTENTION. ROW.," the heat was on. We shot off like a rocket from the start and held our power, passion, concentration, and technique to and through the finish line. What a feeling it was to race hard down the course, and to do that all with none other than your teammates, who are all just as hungry for victory as you are. There is no better feeling than walking (or should I say rowing) away from a race with a feeling of confidence, and knowing each member of your played an equal part in the success.
Although this was only a scrimmage, it is only just the beginning. It gave all of us a chance to come together as a team and share in the accomplishments of our hard work, no matter what the final results were. It was fun. It was intense. And it made us both excited and humbled for the season ahead of us. 
Let's now together celebrate what we've all accomplished, but remember to raise the bar each time we succeed. #SpringBreak2015 #RowRaceRepeat
Spring Training: Summing it Up
Published on Monday, 23 March 2015 14:25
Stephen Pleasant '18 (Novice Men)
Major: Accounting
Hometown: Frankfort, IL
One of the benefits of being asked to write one of these blog posts is being forced to take some time and reflect on my team and I's week in Oak Ridge. As I sit here at midnight and shuffle through my semi-coherent thoughts, one common theme seems to run through all of them; Oak Ridge was rough, and I wouldn't trade it for anything.
It all started in true rowing fashion, and by that I mean waking up at 5:30. It's hard to say what exactly the atmosphere was like at that moment, everyone was pretty hopeful about break and excited to get into boats, our car even had donuts for the ride. Over the next 12 hours, we slept, talked, watched foreign music videos with random spider man cameos in them, and generally had a good time. When we got out of the car at the Days Inn, the good spirits continued. Everyone was kicking a ball around, excited to finally be out of cars and out of the cold, and we all looked ahead at the next day with smiles.
That was until, of course, 6:30 the next morning where smiles got replaced with lack of sleep. 4 alarms blared at the same time and when one of my roommates opened the door to check the temperature the room's temperature dropped at least 5 degrees. Soon enough, we were bundled head to toe in a collection of spandex and sweatpants, and running our brisk warm up jog before practice, and soon after that, I was staring at the frost on the dock as I tightened my oar lock and shoved off from the dock, shivering and searching the sky for the sun. After 2 and a half hours of trying to convince myself I was warm, and acclimating our new rowers to the boat, we let the women take over and took our break, eating sandwiches and trying to get warm. The next practice was, go figure, sunny and warm. It felt great to get out on the water feel the sun, and be warm for the first time in months. Afterwards, we ran for a half hour and then did body circuits. Around this time is where, walking back to the car, legs barely moving, aching, everyone looked at each other and unanimously and silently agreed "It's gonna be a long week".
We weren't wrong. The week was rainy, foggy, and, looking back, would have made for some awesome 80's style training montage with "eye of the tiger" going in the background. Some practices, drilling down the river surrounded in fog, were amazingly surreal. Others, endlessly sprinting in the pouring rain, made me want to give up, and pushed me so far past my physical and mental breaking point I was numb at the end.
The most memorable part of the week, however, wasn't the 2-a-day practices shrouded by fog or the hellish sprints, it was the lessons I learned. It was learning that eating at a china buffet in Tennessee is a terrible, bowel-destroying idea. It was learning that nothing unites a men's rowing team more than Pokémon and cartoons. It was learning to embrace my inner Dad. It was learning that police at a Days Inn see some weird stuff, that Happy Hour at Sonic is something to do burpees for, and that our team can sing through 15 minutes of wall sits.
So now, being off the water and looking back, it's obvious to say both my team and I improved as rowers, but past that, I learned why I row, and why we row. It's for the experiences we all share, from the pain in your legs as you down Advil to that elation as you cross the finish line, and especially everything in between. It was at Oak Ridge I learned that, and I wouldn't trade it for anything.
Spring Training 2015: Day 4
Published on Thursday, 12 March 2015 16:52
Sarah Reis '17 (Varsity Women)
Major: Exercise Physiology
Hometown: Oconto Falls, WI 
The weather in Oak Ridge today was not what we were expecting, but the day turned out more fun and exciting than any of us imagined. It started out with the women having early practice at 7. Once we got to the course, we noticed the dense fog that surrounded the lake. It was beautiful looking, but too dangerous for us to row on at that time. The women then decided do a quick core circuit before we go on the water to give time for the fog to lift. I was in the varsity women's 4+, and all of us were excited to have our coach, Bri Conrath, cox us in the morning. It was neat to have our coach jump in the boat with us for once and give the men's coxswains a rest. We spent that practice working on our starting sequences. I definitely felt a huge improvement from when we first starting practicing them on Tuesday to today.
Once practice was over for the morning and we were all soaked from the rain, we had a team meeting to announce that the men and us were going to have the afternoon off. Instead, the combined women's teams were going to take an afternoon trip to Knoxville, which was only 20 minutes away. It was nice to get away from the hotel and see one of the pretty southern cities. We spent a couple hours exploring the city, which involved getting coffee, shopping in the many boutiques, and then finally getting dinner before we headed back  to the hotel.
Looking both at my boat and the novice boats, I can see a huge improvement from the beginning of the week until today. We are all perfecting our technique while also adding power. The day trip was definitely of highlight of the day (rowing comes in close second). Knoxville was a beautiful town and we all enjoyed the afternoon off while getting to know each other more and grow closer as a women's program.  I cannot wait to see what the next two days brings for all of us!